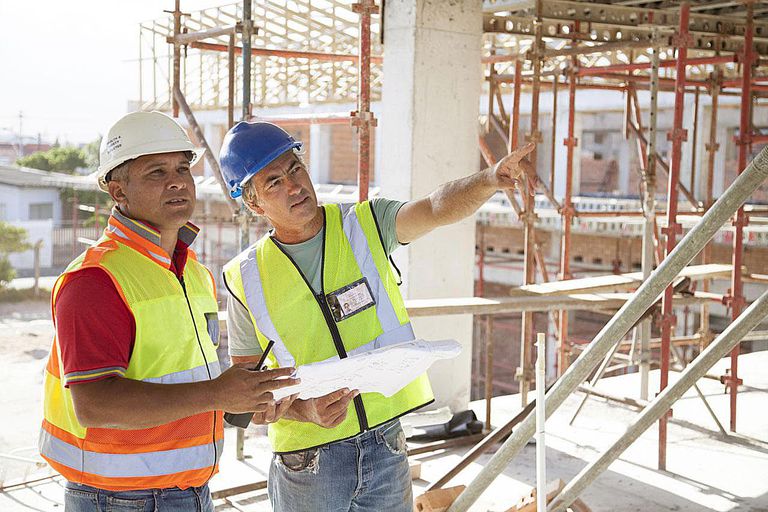 Construction Job Titles and Descriptions
The construction sector includes the construction of commercial, industrial, and residential buildings and engineering projects like roads, bridges, and utility systems. Construction includes both new construction and remodeling, additions, maintenance, and repairs.
Construction is one of the industries with the highest projections for new employment opportunities. Positions vary ranging from unskilled labrer and helper jobs to roles that require extensive training, education, and skills.
Elevator Installers and Repairers
People in this role put in elevators, escalators, and other moving walkways and stairs, and also maintain and repair them. More than half of all states require these workers to be licensed, and training for the job is typically through an apprenticeship. 
Projected Growth: 13%
2016 Median Pay: $78,890 per year 
Insulation Workers
Sometimes called insulators, these workers install insulation in both residential and commercial buildings to help buildings maintain temperature control. With on-the-job training, insulators can learn how to read blueprints, choose the right insulation (and the correct amount), and install it properly. 
Projected Growth: 13%
2016 Median Pay: $35,660 per year (for mechanical insulation workers, the median pay was $45,430) 
Ironworkers
Ironworkers can learn on the job or through an apprenticeship about the correct way to install iron and steel for buildings, roads, bridges, and other structures.
Projected Growth: 9%
2016 Median Pay: $51,800 per year 
Masonry Workers
Using bricks, stone, concrete, and other materials, masons create or build walls, fireplaces, fences, and more. Programs to learn masonry are available at technical skills or you can learn on the job or through an apprenticeship. 
Projected Growth: 15%
2016 Median Pay: $41,230 per year 
Plumbers, Pipefitters, and Steamfitters
People in this role install pipes in both residential and commercial spaces. A license is usually required, and training is through apprenticeships or school programs. Review this sample resume for a plumber, along with a list of skills for plumbers. 
Projected Growth: 12%
2016 Median Pay: $51,450 per year 
Roofers
Training to install and repair roofs is typically on the job although apprenticeship programs are available. 
Projected Growth: 13%
2016 Median Pay: $37,760 per year
Solar Photovoltaic Installers
Also known as PV installers, people with this job title install solar roof panels on residential and commercial buildings. Courses are available for training, as well as apprenticeships and on-the-job training. 
Projected Growth: 24%
2016 Median Pay: $39,240 per year
Construction Job Titles
See below for an extensive list of more construction related job titles and occupations. Use this list to help power your job search. 
A – D
Apprentice
Assistant Project Manager
Building Inspector
Carpenter
Civil Engineer
Concrete Labrers
Construction Assistant
Construction Coordinator
Construction Engineer
Construction Foreman
Construction Manager
Construction Superintendent
Construction Supervisor
Construction Worker
Contract Administrator
Contract Manager
Crane Operator
Dry Wall Finisher
Dry wall Installer
E – M
Estimator
Electrician
Equipment Operator
Field Engineer
Framing Carpenter
General Labrer
Inspector
Iron Worker
Joiner
Labrer
Master Electrician
Master Plumber
N – Z
Painter
Pipe Fitter
Planner
Plumber
Purchasing Coordinator
Project Assistant
Project Manager
Roofer
Safety Director
Safety Manager
Scheduler
Signal Worker
Site Manager
Superintendent
Surveyor
Welder
More About Construction Jobs: Top 10 Best Paid Construction Jobs | Construction Skills List
More Job Titles
Lists of Job Titles
More information on job titles and lists of job titles for a variety of occupations.
Job Title Samples
Sample job titles and job title lists categorized by industry, type of job, occupation, career field, and position level.