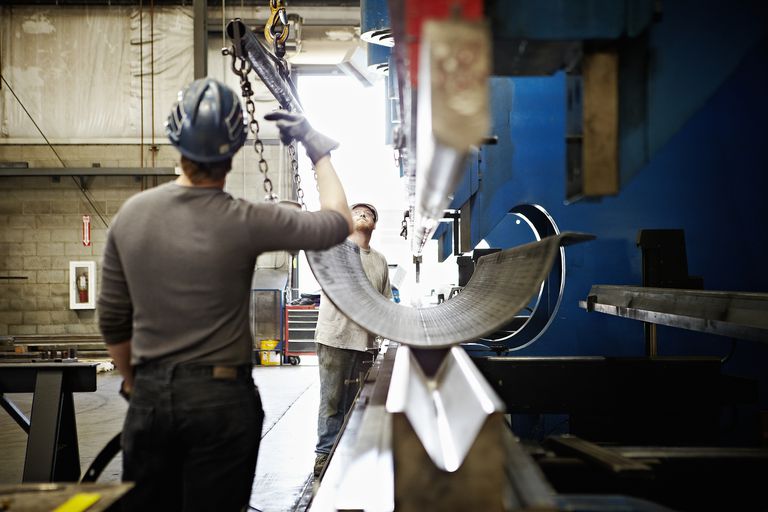 Manufacturing Job Titles and Descriptions
Jobs in manufacturing involve creating new products, either from raw materials or from pre-made components. Manufacturing jobs might involve working on the mechanical, physical, or chemical transformation of materials to create these new products.
Most companies in the manufacturing world have plants, factories, or mills where employees are involved in the production of goods and materials.
Manufacturing plants and factories need more than just people who work on a production line.
These employees also receive lots of on-the-job training.
Production Manager
Production managers oversee the day-to-day operations at manufacturing plants. They ensure that production stays on schedule, they hire and manage workers, and they fix any production problems. Most production managers need a bachelor's degree, typically in business or industrial engineering.
Quality Control Inspector
Quality control inspectors examine materials and products for any hazards, defects, or deviations. They generally work in manufacturing plants, inspecting products. Most quality control inspectors require a high school degree and receive on-the-job training. If they are required to use technical equipment and computer programs to inspect products, they might need a higher degree, such as an associate's degree in quality control management.
Manufacturing Job Titles
Below is a list of manufacturing job titles, including those described above. Use this list of job titles when searching for a job in manufacturing. You might also use this list to encourage your employer to change the title of your position to fit your responsibilities.
A – D
Aircraft Mechanic
Assembler
Assembly Supervisor
Assistant Plant Manager
Boiler Operator
Boilermaker
Bookbinders and bindery workers
Brazer
Buyer
Chemical Plant Operator
Chief Manufacturing Executive
Chief Quality Control Executive
Civil Engineering Supervisor
CNC Machinist
CNC Operator
Coating, Painting, and Spraying Machine Operator
Computer Control Programmer/Operator
Configuration Analyst
Controller
Controls Engineer
Customer Service Representative
Cutter
Dairy Processing Equipment Operator
Design Engineer
Designer
Director of Quality Management
Distribution Manager
Division Manager
E – L
Electrician
Electromechanical Technician
Electronic Assembler
Electronic Technician
Engineer
Equipment Technician
Estimating Manager
Expediter
Fabricator
Facilities Manager
Fiberglass Laminator/Fabricator
Field Service Technician
Floor Assembler
Floor Assembly Supervisor
Food Technologist
General Labrer
General Manager
Industrial Engineer
Industrial Engineering Technician
Inspector
M – P
Machine Operator
Machine Shop Maintenance Supervisor
Machine Shop Production Supervisor
Machine Tool Cutting Operator/Tender
Machinists
Manager or Supervisor
Manufacturing Engineer
Manufacturing Process Engineer
Manufacturing Production Manager
Manufacturing Technician
Master Scheduler
Material Handler
Materials Management Supervisor
Materials Manager
Materials Planner
Mechanical Designer
Mechanical Engineer
Mechanical Technician
Metal Workers
Millwright
Operations Clerk
Operations Manager
Operator
Packaging Engineer
Painting and Coating Worker
Photographic Processor
Plant Accountant
Plant Human Resources Manager
Plant Manager
Plant Operator
Plastic Machine Worker
Power Plant Dispatcher
Power Plant Distributor
Power Plant Operator
Powerhouse Supervisor
Precision Assembler
Printing Machine Operators
Process/Product Design Engineer
Process Engineer
Process Operator
Processing Equipment Operations Supervisor
Processing Worker
Product Development Engineering Manager
Product Manager
Product Marketing Analyst
Production Control Clerk
Production Control Manager
Production Engineering Manager
Production Foreman
Production Manager
Production Painter
Production Planner/Scheduler
Production Supervisor
Production Technician
Production Worker
Project Manager
Purchasing Agent/Buyer
Q – Z
Quality Assurance Engineer
Quality Assurance Manager
Quality Control Analyst
Quality Control Inspector
Quality Engineer
Quality Inspector
Quality Manager
Reliability Engineer
Safety Manager
Safety Manager/Coordinator
Safety Technician
Semiconductor Processor
Senior Buyer
Shift Supervisor
Shipping and Receiving Manager
Silicon Wafer Fabrication Operator
Solderer
Stationary Engineer
Structural Metal fabricator
Supplier Quality Engineer
Surface Mount Technology Machine Operator
Test Engineer
Tool and Die Maker
Tool Crib Attendant
Tool, Die, and Gauge Maker
Tool Room Supervisor
Wafer Processing Technician
Warehouse Associate
Warehouse Manager
Warehouse Worker
Waste Treatment Plant Operator
Welder
Woodworker
Lists of Job Titles
More information on job titles and lists of job titles for a variety of occupations.
Job Title Samples
Sample job titles and job title lists categorized by industry, type of job, occupation, career field, and position level.
Read More: Engineering Job Titles | Construction Job Titles | Technical Skills | Manufacturing Dress Code